Feel you're Away and At Home ...
Feel you're Away and At Home... in the spacious and cosy living room with a view of your (own) garden. In good weather, it is great to relax there in the sun or find a shady spot under the big cherry tree.
'Uit en Thuis' offers you complete privacy. The bright appartment is completely at your disposal during your stay; there are no other guests. You have a private entrance and lockable storage. The car can be parked on private property.
You enter the cosy living room through the entrance and the De Binnenkomer. The height of this space is very unusual; just look at the beams that are metres high. The living room is fully equipped with comfortable seating, flat screen TV, a dining area and a pantry with refrigerator, Nespresso, kettle and combi-microwave. In the living room, you can also find some games and several magazines, which naturally you can use during your stay. The bed and breakfast has free Wi-Fi.
There are three bedrooms with a total of six bed spaces. The luxurious bathroom has a large shower, sink and toilet. Of course, there are plenty of towels ready for you.
'Uit en Thuis' fills the fridge with freshly baked rolls, bread and mainly organic - and local produce. So you can decide when you are going to have breakfast and you do not need to make arrangements in advance. You put the washing up on a trolley and it is done for you. After all, you're a guest here.
If you have any questions or special requests, feel free to ask me. I would be glad to give you tips to make your stay more enjoyable. Maybe you might be interested in a relaxing massage or a Reiki session? I combine the running of 'Uit en Thuis' with my massage and Reiki practice 'Tijd Voor Mij' (Time for Me). As a guest of 'Uit en Thuis', you can of course also book a session. Ask about availability or visit the website.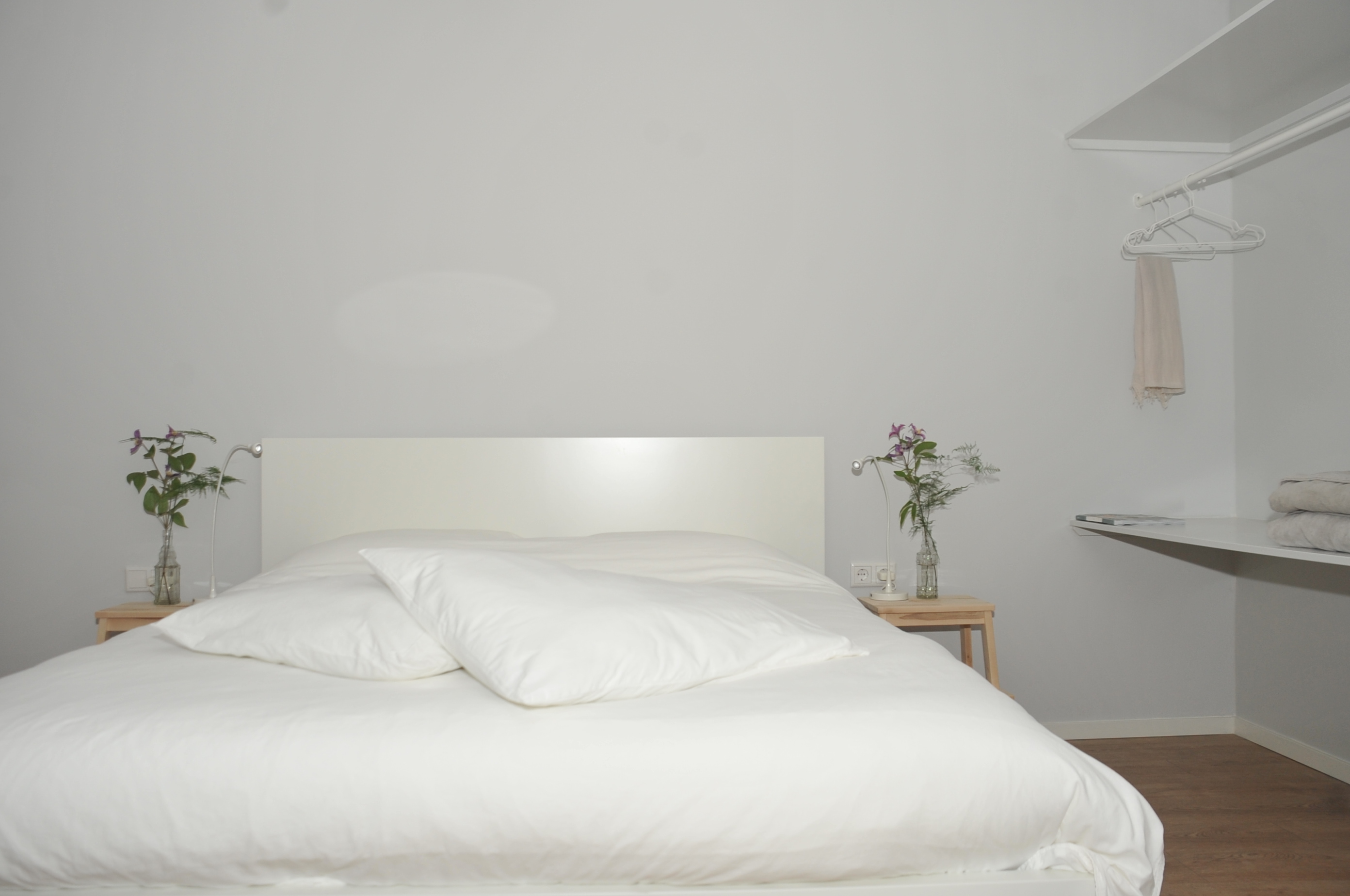 'De Binnenkomer'
Adjacent to the living room, you will find two bedrooms, including 'De Binnenkomer' (The Entrance). This bedroom has a double bed and a wardrobe. Here too, is the staircase to a spacious mezzanine where you will find the third bedroom, 'De Hut'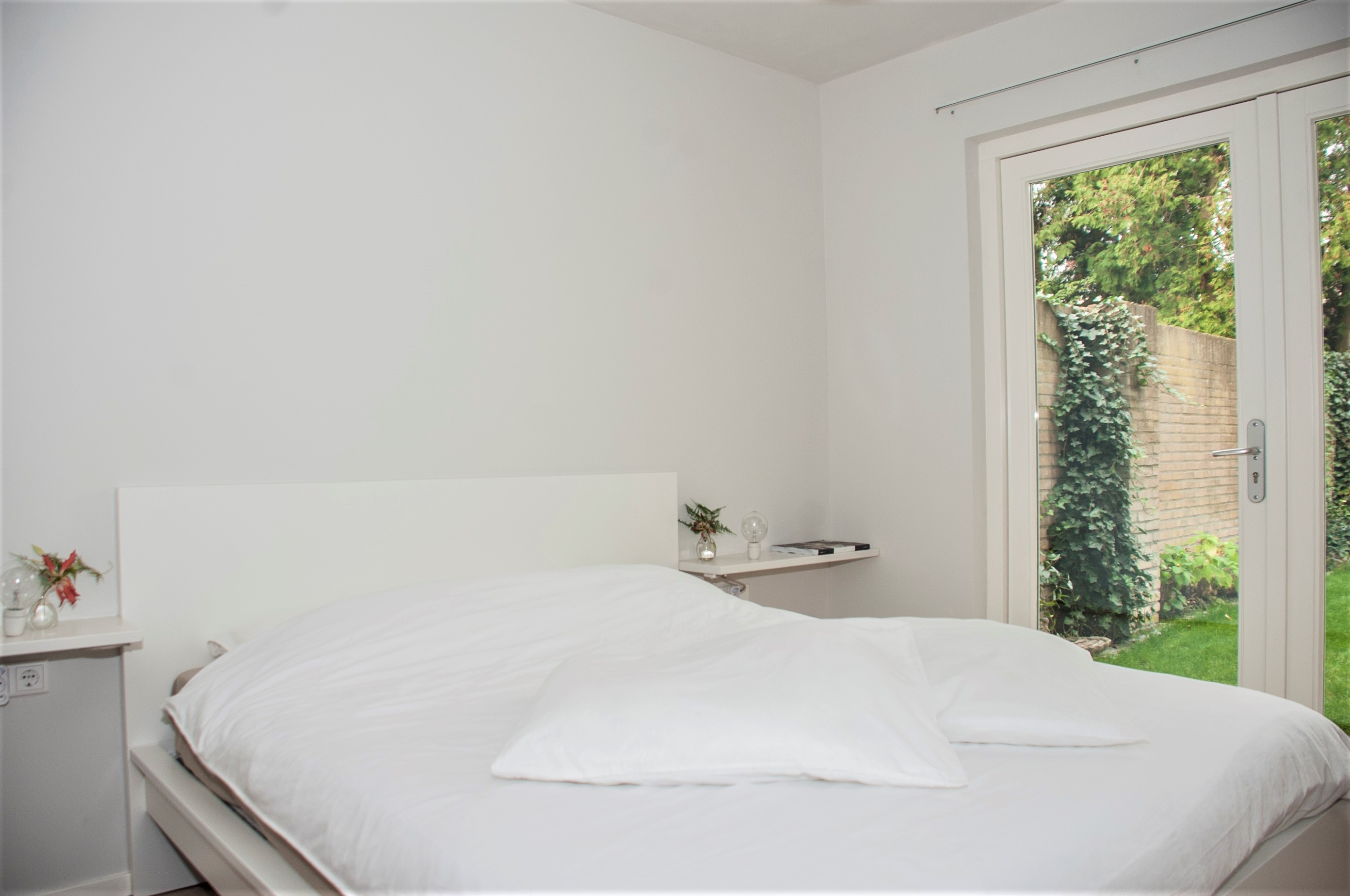 'De Tuinkamer'
This bedroom has a double bed and a wardrobe with safe. The Garden Room has garden doors, so when the weather is nice you can have a morning walk as if you were in your own garden.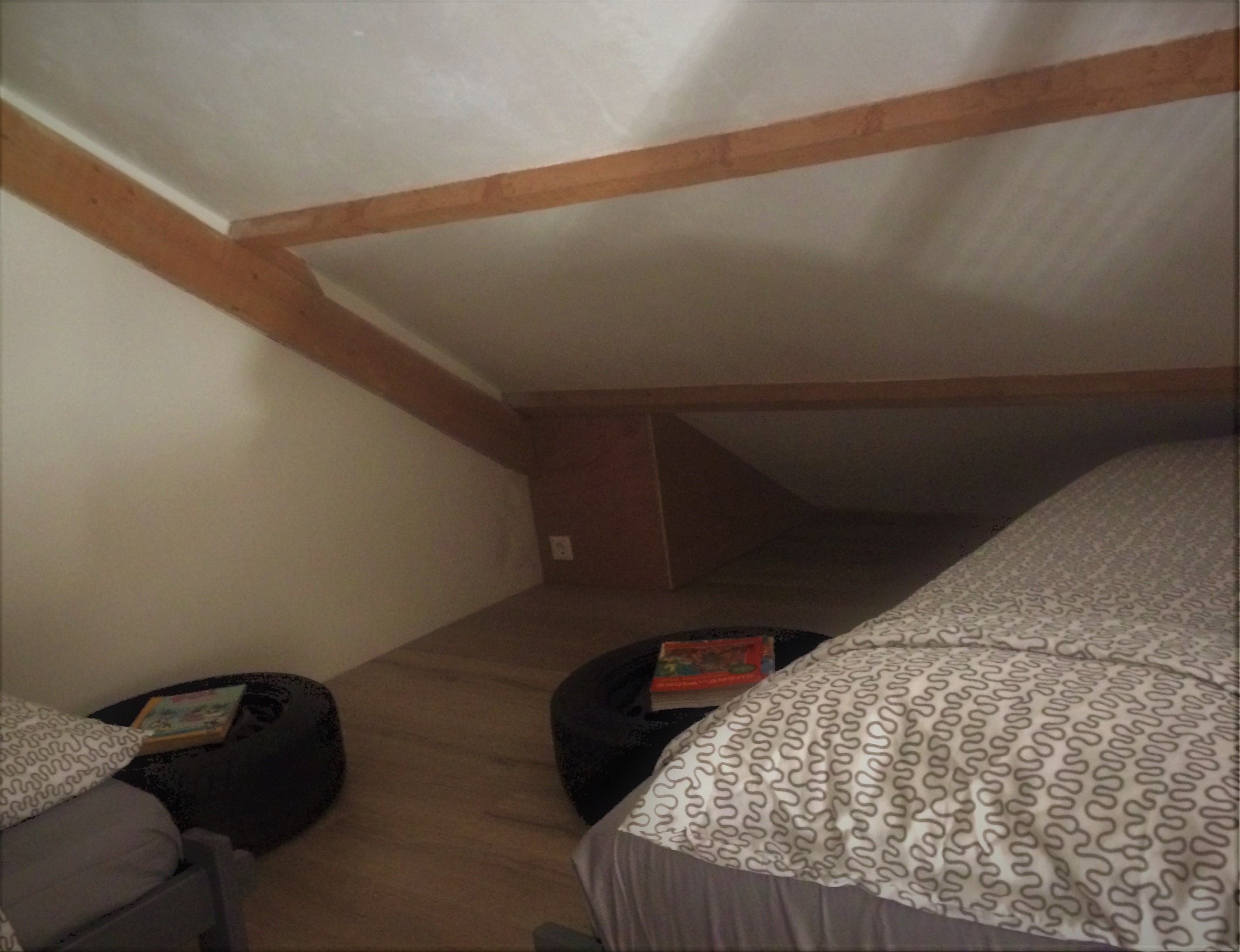 'The Hut'
In 'the Hu't, you will sleep with a view of the roof ridge, with its sturdy wooden rafters. This bedroom is located on the mezzanine, overlooking the living room. There are two bed spaces here too.' The Hut' is low and that makes it exciting; adults can only stand upright in the middle. The cosy Hut is thus a particular favourite with children, although 'the Hut' also is fine for adults.
A cot can also be placed there on request.